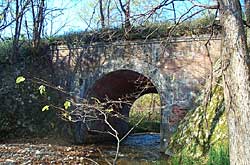 @When going, it is hard for a moment because going up continues. There are various trees and flowering plants because it is a course that passes in the forest, and are a lot of birds.
As the building of the Meiji era, the bridge of the brick making in the
vicinity of Yakusouonsen is a valuable structure.